Goodyear to acquire Cooper Tire
February 22,2021
This transaction will create a stronger U.S.-based leader in the global tire industry
AKRON, Ohio, Feb. 22, 2021 - We are excited to share news that we believe will help build your business and further strengthen your relationship with Goodyear. Today we announced that Goodyear has entered an agreement to acquire Cooper Tire. Together, we will create an even stronger partner for customers like you.
Cooper has a portfolio of respected brands that will complement Goodyear's already strong product lineup. Included among Cooper's offerings are Cooper, Mastercraft, Roadmaster, and Mickey Thompson. We're pleased that the combination of our two companies will give you the opportunity to carry even more products from the Goodyear family across the value spectrum.
Significant Customer Benefits
The transaction will leverage the respective strengths of both companies to provide many benefits to customers like you, including:
Expanded product offering. The blending of these complementary brands will create a comprehensive portfolio that fully covers the premium, mid and lower tiers.
Combined strength in light truck and SUV. The transaction will harness the companies' shared strength in light truck and SUV products to better serve this highly profitable segment.
Greater manufacturing capabilities.The addition of Cooper will create opportunities to expand select Cooper facilities to increase capital efficiency and flexibility.
Enhanced service.Our combined assets will further enhance service for our customers.
What's Next
This announcement is just the first step in the process. Until the transaction closes, which is expected in the second half of 2021, Goodyear and Cooper remain separate companies and nothing about the way we work with you changes. Specifics about the combined company will take some time to come together and, as it's still early in the process, there may be questions we won't be able to answer yet.
We are excited about this combination and the opportunities it will present to build the value of the Goodyear and Cooper brands, help our customers win in their markets and become consumers' preferred choice. Goodyear and Cooper share a commitment to integrity, quality, agility and teamwork, which will support a successful integration.
As always, thank you for your continued support and business. We are excited for what the future holds.
Best Regards,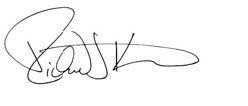 Richard J. Kramer
Chairman, CEO and President
---
For more information and up-to-date news regarding this transaction, please visit https://goodyearcooper.transactionfacts.com/.
---